As you prepare for your beach vacation or poolside lounging, you might be shopping for the perfect swimsuit. But finding a comfortable and flattering suit can sometimes be challenging. One issue that many women face is the dreaded cameltoe (a wardrobe malfunction that can make you feel uncomfortable and self-conscious).
So, the question is, how can you find a bikini that will make you look and feel your best while also addressing the concern of "how to hide cameltoe in bikini"?
To effectively hide camel toe in swimsuits, wear a camel toe concealer.
In this blog post, I'll discuss other tips and tricks to prevent swimsuit cameltoe, ensuring that you look and feel your best in any swimsuits or bikinis. But before that, what are the causes of cameltoe?.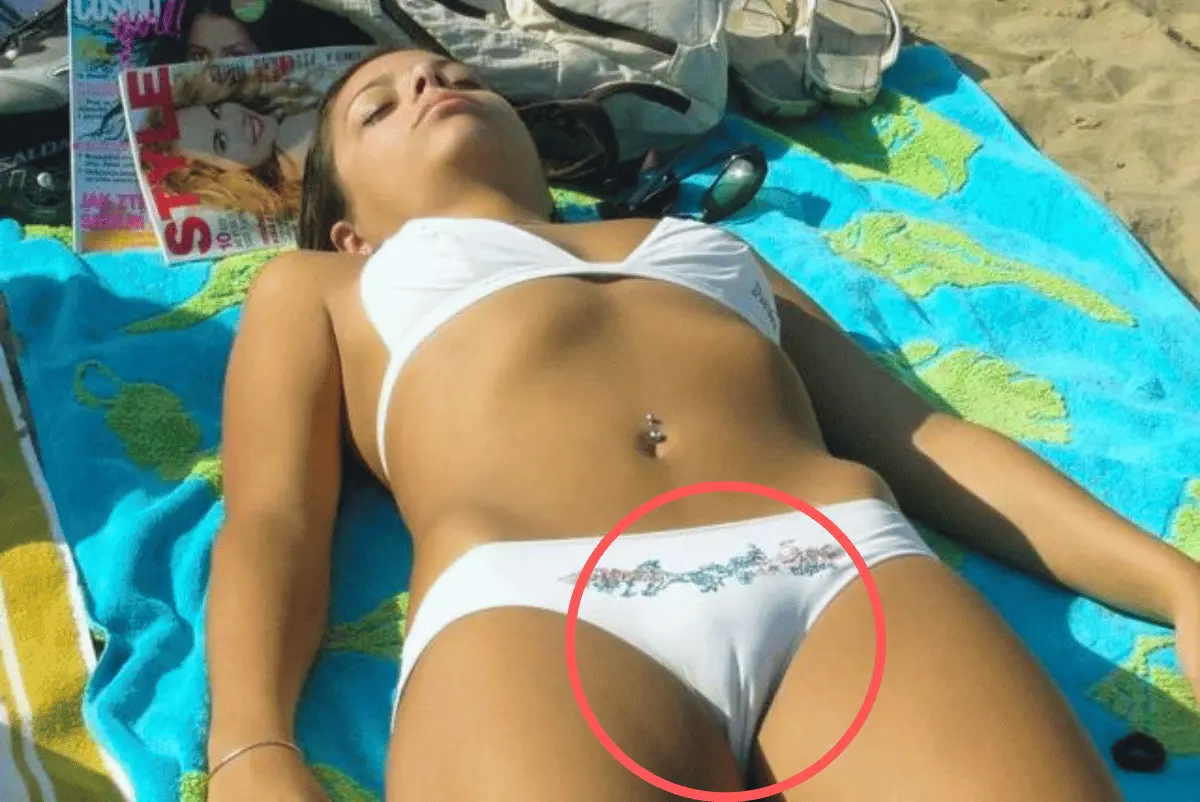 Common Causes of Cameltoe
Understanding the factors that contribute to cameltoe can help you prevent it. Some common causes include:
1. Wearing tight or ill-fitting swimwear. Tight or small-sized swimsuits are more likely to cause cameltoe as they can bunch up and dig into the groin area.
2. Thin, stretchy materials. Swimsuit fabrics that are thin and overly stretchy may lack the necessary structure to provide proper coverage, leading to cameltoe.
3. Front seams. Swimsuits with a front seam running down the middle are more prone to causing cameltoe, as the seam can create a more pronounced indentation.
7 Ways to Prevent Bikini Camel Toe
1. Choose the right size
It's crucial to select a swimsuit that fits correctly to avoid cameltoe. A suit that's too small or tight may cause fabric to bunch or dig into your body, resulting in unwanted cameltoe. Be sure to try on different sizes to find the one that feels most comfortable and offers adequate coverage.
2. Opt for thicker fabrics
Thin, stretchy materials are more likely to result in cameltoe. To prevent this, choose swimsuits made from thicker, more structured fabrics. These materials tend to hold their shape better and provide more coverage, reducing the chances of cameltoe.
3. Look for swimsuits with built-in liners
Many swimsuits come with built-in liners, which provide an extra layer of protection against cameltoe. These liners are typically made from soft, moisture-wicking materials that help keep you dry and comfortable. They also act as a barrier, preventing the swimsuit fabric from digging into your body.
4. Consider high-waisted bottoms
High-waisted swimsuit bottoms are not only stylish but can also help prevent cameltoe. The higher waistline provides more coverage and support, reducing the likelihood of fabric bunching or digging in.
5. Avoid front seams
Swimsuits with a front seam running down the middle are more prone to causing cameltoe. When shopping for a new suit, look for seamless options or those with a single seam on the side. This design can help minimize the risk of cameltoe by distributing the fabric more evenly.
6. Wear a panty liner or adhesive cover
If you're still concerned about cameltoe, consider using a panty liner or adhesive cover as an additional precaution. These products can be placed inside your swimsuit bottoms to create a smooth, seamless appearance. Ensure that the liner or cover is specifically designed for swimwear, as regular panty liners may not stay in place or absorb water well.
7. Adjust the leg openings
Sometimes, adjusting the leg openings of your swimsuit can help prevent cameltoe. Gently pull the fabric away from your body and ensure it's evenly distributed along the leg openings. This can prevent bunching and create a more flattering fit.
How to Fix Cameltoe in Existing Swimsuits
If you're experiencing cameltoe in your current swimwear, try these solutions:
Adjust the fit. Gently redistribute the swimsuit fabric around the leg openings and groin area to create a smoother appearance.
Sew in a liner. Add a soft, moisture-wicking liner to the inside of your swimsuit bottoms to create an extra barrier against cameltoe.
Use a panty liner or adhesive cover. Place a swimwear-specific panty liner or adhesive cover inside your swimsuit bottoms to create a smooth, seamless appearance.
Swimsuit Styles That Minimize Cameltoe
Finding the right swimsuit style can help minimize the risk of cameltoe, ensuring you look and feel confident by the water. To minimize the risk of cameltoe, consider these swimsuit designs:
1. Boyshorts
Boyshorts are a popular swimsuit bottom style that offers more coverage than traditional bikini bottoms. With a longer leg line and a wider crotch area, boyshorts significantly reduce the likelihood of cameltoe. They provide a sporty and comfortable look while maintaining a fashionable edge. Many swimwear brands offer boyshorts in various prints, colors, and designs, making it easy to find a pair that matches your personal style.
2. Skirted bottoms
Skirted swimsuit bottoms feature a built-in, short skirt that offers additional coverage over the bikini or one-piece swimsuit. The skirted design not only helps conceal any potential cameltoe issues but also adds a feminine and stylish touch to your swimwear. Skirted bottoms come in various lengths and styles, including high-waisted options, side-tie skirts, and ruffles. You can choose a skirted bottom that suits your body type and complements your existing swimwear collection.
3. Ruched styles
Ruching is a design technique that involves gathering and stitching fabric to create a textured, gathered appearance. Ruched swimsuit bottoms can effectively camouflage the appearance of cameltoe while also providing a flattering fit. The gathered fabric creates visual interest and helps to draw the eye away from any imperfections, including cameltoe. Ruched styles are available in both one-piece swimsuits and bikini bottoms, with various designs such as side ruching, all-over ruching, or ruching at the waistline.
Tips for Embracing Your Body at the Beach or Pool
Feeling confident and comfortable in swimwear is essential, regardless of any potential wardrobe malfunctions. Try these tips:
Focus on what you love about your body. Celebrate your unique features and emphasize them with swimwear that flatters your body shape.
Choose a swimsuit that makes you feel great. A swimsuit that fits well and makes you feel confident will help you enjoy your time at the beach or pool without worrying about cameltoe.
Surround yourself with positive influences. Spend time with friends and loved ones who support and uplift you, creating a positive environment for body confidence.
Remember that everyone has insecurities. Keep in mind that everyone has their own body concerns, and focusing on enjoying your time in the sun is more important than worrying about small imperfections.
Does pubic hair conceal camel toe?
Yes, pubic hair can help conceal camel toe to some extent. However, clothing choice and fit are the primary factors in preventing camel toe.
Takeaway on Preventing Camel toe in Bathing Suit
Cameltoe in swimsuits can be an uncomfortable and embarrassing issue, but with the right precautions, it's entirely preventable. By choosing the right size, selecting thicker fabrics, opting for built-in liners, and following the other tips in this guide, you can confidently rock your swimsuit without fear of cameltoe. So, gear up and get ready to enjoy the sun, sand, and water while looking and feeling your best.
Disclaimer: This article, other beauty and fashion tips on SheBegan are contributed by experienced fashion professionals, beauty & cosmetics experts. Read our full research and editorial process here. Also, our posts may contain affiliate links, read our full affiliate disclosure